Since October, 2016, the CSEB has been hosting a series of webinars featuring topics of interest to Canadian environmental biologists. You are welcome to view archives of these webinars, below. Announcements for upcoming webinars are posted on this CSEB website under News and Events.
Sept. 20, 2020: Update on Vancouver Island Canada Jay Research.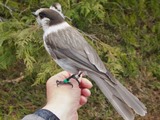 Presented by Dan Strickland, former Chief Naturalist at Algonquin Provincial Park (retired, but still conducting research!).
Abstract: The Canada Jay has three recognizable races that all meet in British Columbia. The one in the mountains of Vancouver Island and the mainland coast is the most distinct and for 60 years was even considered to be a distinct species called the Oregon Jay. Presenter Dan Strickland began a study of a population of these jays at Paradise Meadows in 2016 and in the last four years has learned that they are even more distinct than we realized, not only in appearance but also in their social organization and nesting. Dan will tell us what he has learned in this 2020 update on his work and speak about the possible restoration of these Pacific Coast birds to the status of separate species.
To view this free webinar now, please follow this link. Registration is required. (Note: Presentation begins about 3 minutes into the recording.)
May 14, 2020: Discovery with Citizen Science – the BC Parks iNaturalist Project.
Presented by Dr. John Reynolds,  Simon Fraser Univ., Chair of COSEWIC.
Abstract: The iNaturalist Project. Citizen science projects are changing the way we document biodiversity, leading to discoveries that can have direct implications for how we protect and enhance wild nature. The BC Parks iNaturalist project provides an example of how we can harness the enthusiasm of volunteers to photograph plants and animals through the global iNaturalist platform.
To view this free webinar now, please follow this link. Registration is required.
April 28, 2020: Key Findings from Canada's Changing Climate Report.
Presented by Dr. Barrie Bonsal with the Watershed Hydrology and Ecology Research Division of Environment and Climate Change Canada, Saskatoon.
Abstract: Canada's Changing Climate Report was released on April 1st, 2019.  Led by Environment and Climate Change Canada, this is the first report to be released through the national assessment report series: Canada in a Changing Climate: Advancing our Knowledge for Action. The report provides comprehensive information on how and why Canada's climate has changed, and what changes are projected for the future. This talk will present results from the report on changes across Canada in temperature, precipitation, snow, ice, and permafrost, freshwater availability as well as in Canada's three oceans. Changes in Canada's climate will be considered within the broader context of global-scale changes, with a focus on recent results from the IPCC Special Report on The Ocean and Cryosphere in a Changing Climate.
To view this free webinar now, please follow this link. Registration is required.
March 29, 2020: Cetacean Research and Citizen Science
A partner webinar – Comox Valley Nature
Presented by Aaron Purdy, Program Coordinator of the South Vancouver Island Cetacean Research Initiative
Abstract: Mr. Purdy describes the BC Cetacean Sightings Network, some basic information about whales and the threats they face and what members of the public can do to aid cetacean research and conservation.
To view this free webinar now, please follow this link. Registration is required.
December 10, 2019: Exploring and Monitoring Arctic Biodiversity Using DNA Barcodes
Presented by Dr. Alex Borisenko from the University of Guelph.
Abstract: Tracking the state of Arctic ecosystems hinges on our ability to understand shifts in biological diversity and its components, which was traditionally hampered by the lack of specialized taxonomic expertise required to identify most organisms. DNA barcoding provides a new digital framework for rapid biodiversity assessments, boosting the speed and efficiency of species identifications by making use of recent advances in DNA sequencing and informatics technologies. This presentation provides background on the scientific basis and technological potential of DNA barcoding and outline the scope of its current and prospective applications, ranging from baseline ecological surveys and environmental impact assessments to conservation and wildlife health. It also highlights relevant research initiatives, including the Arctic BIOSCAN project (ARCBIO) which aims to develop the capacity for near real-time DNA-based biodiversity monitoring in the Canadian Arctic.
To view this free webinar now, please follow this link. Registration is required.
October 9, 2018: Fall Update and Implications of the Fisheries Act Review (Bill C68) Implementation.
Presented by Rick Kiriluk, Fish Habitat Biologist, Dept. of Fisheries and Oceans (Burlington)
Abstract: Pursuant to the work of the 2016 ministerial Standing Committee, the Department of Fisheries and Oceans presented changes to The Fisheries Act in February 2018. In order to assist professional biologists in their practice, Rick provided an overview of the amendments and presented the current status of the implementation of Bill C-68. The three files below were referenced during this webinar;
Overview_of_FA_Amendments_(July_2018) 625KB
Proposed Updates to the Applications for Authorization -Aug2018 nsp   298KB
fisheries-act-lois-des-peches-consultation-report-rapport-eng   6.5MB
To view this free webinar now, please follow this link. Registration is required.
April 19, 2018: Changes to Federal Environmental and Regulatory Legislation
Presented by Keith Bergner (LL.B.), Head of Aboriginal Law for Lawson Lundell LLP.
Abstract: In June 2016, the Federal Government began a formal review of its regulatory and environmental review processes. In February 2018, the Federal Government introduced Bill C-68, (Fisheries Act) and Bill C-69, (Impact Assessment Act, Canadian Energy Regulator Act, and Navigation Protection Act). This presentation will focus on the proposed new and amended federal environmental and regulatory review processes, including the Impact Assessment Agency, the Canadian Energy Regulator (former National Energy Board) process, and touch briefly on the changes to the federal Fisheries Act and Navigation Protection Act.
To view this free webinar now, please follow this link. Registration is required.
March 29, 2018: Contaminants, Climate, Food Resources: Biological Responses to Changing Ecosystems
Presented by Dr. Kirsty Gurney, Research Scientist with Environment and Climate Change Canada and Adjunct Professor with the University of Saskatchewan.
Abstract: Human-caused and natural changes in ecological systems (i.e., environmental stressors) can affect wildlife both directly and indirectly. Identifying such impacts is critical to predicting the effects of environmental change on wildlife and ecosystems, but cause-effect relationships in complex natural systems are difficult to determine. To inform decisions that help to conserve healthy ecosystems, my research aims to improve our understanding of how organisms respond to different types of ecological disturbances. I focus on three environmental stressors – acting singly or in combination – that can alter ecosystem structure and function and will describe current studies related to each of these factors.
To view this free webinar now, please follow this link. Registration is required.
March 15, 2018: Species at Risk – Prioritizing Threats and Addressing Management Needs in the Fraser Estuary.
A partner webinar – South Coast Conservation Program (SCCP)
Part 1 about prioritizing threats is presented by Dr. Laura Kehoe, Baum Lab at University of Victoria and Martin Conservation Decisions Lab, University of British Columbia
Part 2 (at 29:20 min.) about recreational disturbance to coastal birds is presented by James Casey, Manager of the Fraser Program at Bird Studies Canada.
To view this webinar now, please follow this link. Registration will be required.
February 28, 2018:Environmental Risk – When and How to Apply the Precautionary Principle
Presented by  John Donihee of Willms and Shier Environment, Indigenous and Energy Law.
Abstract: The Precautionary Principle is intended to protect the environment when decisions must be made in the absence of scientific certainty. This principle has been widely and inconsistently applied in Canada by decision-makers ranging from environmental tribunals and decision-makers to our Courts. This presentation will review the adoption and application of the principle in Canadian law and environmental decisions. It will describe the use of the principle in Australia and New Zealand and argue that a more systematic and rigorous approach is needed to ensure that environmental protection results from the application of the principle in Canada.
To view this free webinar now, please follow this link. Registration will be required.
February 13, 2018: Climate Change – The Good, the Bad and the Ugly.
Presented by Dr. James Byrne, Professor at the University of Lethbridge in Alberta.
Abstract: In summer 1988, The Toronto Conference on the Changing Atmosphere Report stated "Humanity is conducting an unintended, uncontrolled, globally pervasive experiment's whose ultimate consequences could be second only to global nuclear war." Where are we thirty years later? This webinar will include a brief historical perspective on climate change, and look at challenges, risks and opportunities humanity faces associated with a rapidly warming Global climate.
To view this free webinar now, please follow this link. Registration will be required.
January 11, 2018: Community-Based Conservation of an Arctic Char Run in Nunavut, Canada.
Presented by Dr. Cameron Stevens, Aquatic Biologist with Golder Associates' Aquatic Division in Edmonton, Alberta.
Biography: Dr. Cameron Stevens
Abstract: The Coppermine Inuit are concerned about the current state of the Arctic Char fishery in the Coronation Gulf in northern Canada. In 2012, the Kugluktuk Hunters and Trappers Organization (HTO) initiated a conservation program for an Arctic char population identified by Traditional Knowledge as having a declining spawning run. Annual data from spawning fish showed that low flows and elevated water temperatures reduce migration success of fish navigating the naturally shallow, boulder strewn creek. Traditional rock weirs and instream engineering were tested to enhance the conditions for fish passage. Learn more about this community-based approach  to increase the productivity of this northern fishery.
To view this free webinar now, please follow this link. Registration will be required.
October 3, 2017: Groundhog days – Vancouver Island Marmot Decline and Recovery.
Presented by Adam Taylor and Cheyney Jackson of the Vancouver Island Marmot Recovery Foundation.
Abstract: Learn about the natural history of the Vancouver Island marmot (Marmota vancouverensis) and efforts to recover this critically endangered species from the brink of extinction. Once, the marmot numbered fewer than 30 individuals in the wild. Today, the population has recovered to over 150 animals, but challenges remain before this Canadian endemic has secured its place in the wild.
To view this free webinar now, please follow this link. Registration will be required.
June 6, 2017 — Nutritional Limitations on Caribou Summer Ranges in Montane and Boreal Plant Communities of Northeastern British Columbia
Presented in September by Dr. Kristin Denryter, University of Northern BC and University of Wyoming.
Biography: Dr. Kristin Denryter
Abstract: Woodland caribou (Rangifer tarandus caribou) are declining throughout much of their range and the role of nutrition in these declines is poorly understood. We used tame caribou to assess the nutritional value of summer habitats in northeastern British Columbia. We quantified food habits, diet quality, and intake rates by caribou at 135 sites and found caribou were highly selective foragers, ≤50% of available vegetation was 'food', and many plant communities failed to provide caribou with enough daily energy and protein intakes to support lactation, growth, and accretion of body reserves. This work has direct implications to caribou conservation and management.
To view this free webinar now, please follow this link. Registration will be required.
June 13, 2017: North American Green Sturgeon: Status and Recovery Efforts
Presented by Dr. Phaedra Doukakis-Leslie, National Oceanographic and Atmospheric Administration-Fisheries
Biography: Dr. Phaedra Doukakis-Leslie
Abstract: First of two webinars on Green Sturgeon recovery. Conservation of the anadromous North American green sturgeon (Acipenser medirostris) is an endangered species in the U.S. and Canada. The green sturgeon ranges from Mexico to at least Alaska in marine waters, and forages in estuaries and bays ranging from San Francisco Bay to British Columbia. Covering status and recovery efforts, this tw0-part webinar will focus on biology, ecology, conservation efforts and research needs (Part 1) and an overview of the U.S. recovery plan , which will be presented once plans are finalized (Part 2).
To view this free webinar now, please follow this link. Registration will be required.
May 16, 2017: A Forensic Investigation of Crude Oil and Saline Spills: Detecting Fiction, Determining Facts
Presented by Dr. Kevin Timoney, Treeline Ecological Research.
Biography: Dr. Kevin Timoney
Abstract: Crude oil and saline water spills are common in Alberta. This study examined four questions: (1) Are reported spill and recovery volumes accurate? (2) Is there evidence of residual contamination and biological effects persistent after spills? (3) Are data on spill cleanup efficiency and rates of environmental damage credible and supported by science? (4) Is the regulator protecting the environment? The regulator's data on spill volumes, recovered volumes, recovery efficiency, and environmental effects are neither accurate nor credible. An energy industry disturbance signature exists in the form of persistent changes in vegetation and soils relative to natural controls. Pervasive and persistent spill effects combined with missing or inaccurate information on energy industry spills present significant social and environmental liabilities.
To view this free webinar now, please follow this link. Registration will be required.
May 3, 2017: Food webs, resiliency and functioning of coastal ecosystems under threat from multiple anthropogenic stressors
Presented by Dr. Brent Hughes, Duke University / University of California, Santa Cruz.
Biography: Dr. Brent Hughes
Abstract: One of the most pressing issues in ecology is determining the drivers of ecosystem functioning and stability. Researchers and managers of ecosystems and populations of concern are often faced with determining the relative effects of top down forces, such as top predators and lower level consumers, and bottom up forces, such as nutrient loading and climate, on the stability of ecosystems. Here I show that the recovery of top predators, sea otters, through the restoration of food webs can lead to dramatic changes to coastal ecosystems, which often benefit their functioning and stability. I also demonstrate that anthropogenic nutrient loading and subsequent hypoxia in estuaries can propagate to adjacent ocean ecosystems with consequences to important ecosystem services, namely fishery production, which in turn is mediated by climatic forcing. These results demonstrate that both top predator recovery and climate can regulate ecosystem functioning and stability in the face of extreme anthropogenic stress.
To view this free webinar now, follow this link… Registration will be required.
April 25, 2017: Marine Plastic Litter in Nova Scotia
Presented by Ashley David, Nova Scotia Environment.
Biography: Ashley David
Abstract: This presentation provides an overview of a study examining the current state of marine litter in Nova Scotia, primarily through analyzing litter collection data provided by the Vancouver Aquarium. Although this study focuses on Nova Scotia, it also considers research that has been generated globally to establish an understanding of trends and threats that marine litter poses. A critical review of the regulatory environment pertaining to marine litter is also completed to identify gaps and opportunities. The presentation concludes with recommendations to address marine litter in Nova Scotia's marine waters and coastlines.
To view this free webinar now, follow this link… Registration will be required.
April 20, 2017: Whales of the Rainforest: Strategies of habitat use by sympatric whales in the Kitimat Fjord system, B.C.
Presented by Dr. Eric Keen, Scripps Institution of Oceanography.
Biography: Eric Keen
Abstract: The identification of "critical habitat" for threatened marine predators is complicated by their cryptic and far-ranging strategies for foraging and habitat use. In an ecosystem survey spanning three summers, I assessed the ecological pathways that couple rorqual whales (f. Balaenopteridae) to their habitat within the Kitimat Fjord System, British Columbia. Contrary to the typical depiction of large whales as blundering giants, I observed complex foraging behaviors and patterns of habitat use that were spatiotemporally structured, perennially persistent, and remarkably attuned to the dynamics of fjord oceanography.
To view this free webinar now, follow this link… Registration will be required.
March 15, 2017: The Consequences of Plastic Debris in Aquatic Habitats
Presented by Dr. Chelsea Rochman, University of Toronto
Biography: Chelsea Rochman
Abstract: In aquatic habitats, plastic pollution is reported globally in lakes and marine coastal and pelagic habitats from the surface waters to the benthos. This material is associated with a cocktail of contaminants, including those that are added during manufacturing (i.e. BPA, PBDEs, phthalates, lead) and those that sorb to the material from ambient seawater (e.g., DDT, PCBs, PAHs, copper). It is now understood that several marine organisms across multiple trophic levels ingest plastic debris in nature. This includes fish and bivalves that we purchase for our own consumption. As such, there is concern regarding how this material may pose a threat to wildlife and human health. Using recent insights from field and laboratory experiments, this presentation will include information regarding the sources, fate and impacts of plastic debris and associated priority pollutants in aquatic habitats.
To view this free webinar now, follow this link… Registration will be required.
January 26, 2017: Using Sediments to Study the Effects of Natural and Anthropogenic Stressors on Lakes in a Multiple-Stressor World
Presented by Dr. John Smol, Queen's University
Biography: John Smol
Abstract: Lake managers and other environmental scientists face many new challenges, not least of which is determining how multiple environmental stressors affect aquatic resources. The situation is often complicated by a lack of systematic long-term monitoring data, making it difficult to determine the nature and timing of ecosystem changes. Furthermore, as environmental assessments are typically performed after a water quality problem is identified, critical data regarding pre-disturbance (or reference) conditions are rarely available. This presentation summarizes recent research from my lab investigating the effects of multiple stressors on lake ecosystems using paleolimnological approaches. Examples include ongoing work on the identification of new environmental problems (such as calcium declines in many softwater lakes) and the long-term impacts of industrial oil sands activities in northern Alberta. The challenges faced when dealing with multiple stressors will be highlighted.
To view this free webinar now, follow this link… Registration will be required.
December 6, 2016: Styrofoam Degradation by Mealworm Beetles and Other Good News.
Presented by Peter Heule, Royal Alberta Museum
Biography: Peter Heule
Abstract: Styrofoam and plastic biodegradation: Good News! Two materials formerly believed to be non-biodegradable and ubiquitous in consumer and construction waste can be broken down by the common mealworm beetle and naturally occurring bacteria, respectively. Plastic water bottles and Styrofoam are not as permanent as we thought, some bacteria are able to reduce them into less persistent constituents, giving hope for reducing the amount of plastic pollution in the environment and our landfills. The implications for further research and development of biodegradation techniques for problematic pollutants using insects and bacteria are discussed.
To view this free webinar now, follow this link… Registration will be required.
November 9, 2016: Canadian Water Quality Guidelines for the Protection of Aquatic Life.
Presented by Uwe Schneider, Environmental Consultant.
Biography: Uwe Schneider
Abstract: Uwe Schneider, Co-lead of the Canadian Water quality Guidelines will present the technical rationale for current guidelines. The Canadian Environmental Quality Guidelines are nationally approved, science-based indicators of environmental quality, nationally mandated by the Canadian Environmental Protection Act (CEPA, 1999). They are recommended numerical or narrative limits for a variety of substances and environmental quality parameters, which, if exceeded, may impair the health of Canadian ecosystems.
To view this free webinar now, follow this link…  The PowerPoint presentation, without the audio, is available here.
October 17, 2016: Microplastics in Marine Food Chains
Presented by Dr. Sarah Dudas, Centre for Shellfish Research, University of Vancouver Island, Nanaimo, B.C.
Biography:  Dr. Sarah Dudas
Abstract: The impact of micro-plastics ingested by marine organisms is a growing recent concern. Relatively little is known about the fate of micro-plastics and their ultimate potential impacts on marine food chains. The ability of micro-plastics to sorb a large variety of chemicals makes them a potential danger for natural ecosystems and human health. Dr. Sarah Dudas , together with Dr. Katie Davidson, is the author of one of the few recent in-depth study on the presence of micro-plastics on manila clams in Baynes Sound and potential impacts of micro-plastics. (Katie Davidson and Sarah Dudas (2016) Archive for Environmental Contaminants and Toxicology (2016) 71:147–156). She is currently undertaking a project to monitor some 3,000 shellfish in the Salish Sea. The webinar will be a review of her research micro-plastic impacts.
To view this free webinar now, follow this link…  Registration will be required.