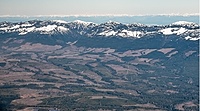 BC's forests have been so intensively and unsustainably clearcut over the past five decades that even the Premier has publicly acknowledged that they are "exhausted." This is synonymous with the international designation endorsed at COP15 of "degraded forests." Strathcona Provincial Park now stands as a virtual ecological island in a sea of clearcuts. This has important economic and ecological implications for the region and for the management of Strathcona Provincial Park. The government's stated commitment to "30% by 2030" presents a unique opportunity to complete the 12% advocated for in the 1989 Larkin report, and add a further 18% to the park, if only to meet our obligations to future generations.
This issue is relevant to conservation initiatives in forested regions across Canada. Join Loys Maingon, BC Director for CSEB, a retired registered professional biologist and Research Director for the Strathcona Wilderness Institute, for an exploration of this challenging topic.
This webinar begins at 7pm Pacific/ 9pm Central/ 11pm Atlantic Time. For more information and to register for this webinar, please follow this link.
"