The Canada Jay has three recognizable races that all meet in British Columbia. The one in the mountains of Vancouver Island and the mainland coast is the most distinct and for 60 years was even considered to be a distinct species called the Oregon Jay. Dan Strickland began a study of a population of these jays at Paradise Meadows in 2016 and in the last four years has learned that they are even more distinct than we realized, not only in appearance but also in their social organization and nesting. Dan will tell us what he has learned in this 2020 update on his work and speak about the possible restoration of these Pacific Coast birds to the status of separate species.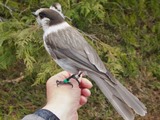 Join us on September 20 at 7pm Pacific / 9pm Central / 11pm Atlantic time via this link.
After registering, you will receive a confirmation email containing information about joining the webinar.